Fashionable supporters were key to the Foundling Hospital's success. Initially, Thomas Coram was unsuccessful in finding backers for his pioneering project. But then he was inspired by French noblewomen caring for foundlings in Paris, and decided to ask English noblewomen to lend weight to his petition.
This idea was a triumph. Twenty-one ladies 'of quality and distinction' sign his petition, and along the way he won the support of many aristocratic and influential men. Together they helped turn the establishment of a hospital for foundlings into a fashionable cause.
The women who signed were:
Charlotte Seymour, Duchess of Somerset
Ann Vaughan, Duchess of Bolton
Henrietta Needham, Dowager Duchess of Bolton
Sarah Lennox, Duchess of Richmond
Isabella Montagu, Duchess of Manchester
Ann Russell, Duchess of Bedford
Elizabeth Knight, Baroness Onslow
Anne Pierrepoint, Dowager Baroness Torrington
Frances Byron, Baroness Byron
Selina Shirley, Countess of Huntingdon
Juliana Hele, Duchess of Leeds
Frances Finch, Countess of Winchilsea and Nottingham
Frances Hales, Countess of Lichfield
Dorothy Boyle, Countess of Burlington
Elizabeth Brudenell, Countess of Cardigan
Frances Thynne, Countess of Hertford
Mary Tufton, Countess of Harold
Anne Lennox, Countess of Albermarle
Anne Weldon Barnard, Baroness Trevor
Anne King, Dowager Baroness Ockham
Margaret Cavendish Harley, Duchess of Portland
Royal support for Coram
All 21 women were Ladies of the Bedchamber to Queen Caroline and it appears she was supportive of Coram's campaign. We know that Caroline was interested in the Foundling Hospital because she commissioned a pamphlet about the running of a similar institution for lone children in Paris. Before it was published, however, Caroline died.
Her husband, King George II was distraught but finally, on 17 October 1739, after 17 years of Coram's campaign, he signed a royal charter. Governors were quickly appointed from those who had donated to the cause, and the work of the Foundling Hospital could begin.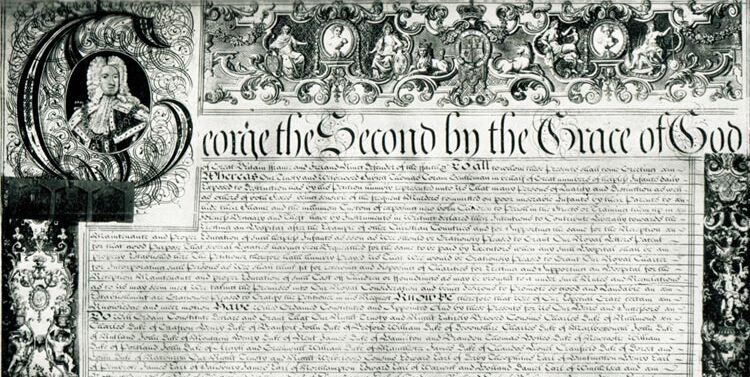 Once the Royal Charter was signed, and work began on the hospital, influential figures remained a large part of the hospital. From the start, the hospital had an executive 'Committee of Governors' and about 300 non-executive governors, who were prepared to use their influence to promote its cause. They were responsible for the running of the London site and for the foster mothers who looked after the children for the first five years of their lives.
Support from the arts world
Among these were a number of musical, artistic and literary giants, such as George Frideric Handel, William Hogarth and later Charles Dickens. Other prominent supporters included Arthur Onslow, the longest serving Speaker of the House of Commons, and Thomas Coutts, founder of Coutts bank and a Governor in the 1800s.
They gave the Hospital credibility in the early days and helped raise much needed funds for its work. As part of this, they increased awareness of the plight of the Foundling pupils and publicised the work of the institution so that it could continue helping children long after their deaths.