As well as Hogarth, Handel and Dickens, other famous names supported the Foundling Hospital.
Arthur Onslow
When Thomas Coram presented his petition for a Foundling Hospital to King George II, Arthur Onslow's name was prominent among the supporters. The two men lived near to each other and were friends. Though they were from very different backgrounds, Thomas Coram and Arthur Onslow had much in common; both were practical and religious men, each known for their integrity and each believing that their Anglican faith should be practised through good deeds. 
Thomas Coram's family was without title or wealth. Onslow, by contrast, was the eldest son of a wealthy and well-known political family: his younger brother, father, great-grandfather and uncle were all politicians for the Whig party, and his mother was an heiress. Educated at Winchester and Oxford, he was set for a legal career but had abandoned that by 1720, when he was elected to Parliament as MP for the family seat of Guildford.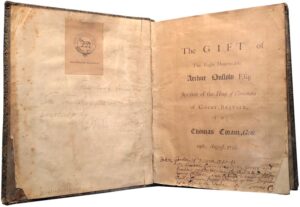 Thomas Coram's personal prayer book
One of the most treasured items in the Coram archives is a prayer book, given to the Foundling Hospital by Coram's founder, Thomas Coram. But this was first given to Thomas Coram by Arther Onslow.
The flyleaf of the book has a dedication, professionally inscribed:
The GIFT of The Right Honourable Arthur Onslow Esq., Speaker of the House of Commons of Great Britain to Thomas Coram, Gent.19th August 1736 
Underneath is another inscription, written by Thomas Coram himself:
Hatton Garden 19th March 1740-41

The General Committee of the governors and Guardians of the Hospital for Expos'd and Deserted Young Children were requested to accept this Book of Common Prayer for the use of the hospital as a gift to the same by Thomas Coram. 
The prayer book in our archives is one of several given by Onslow to Thomas Coram in 1736.
At the opening of parliament, on 23 Jan. 1728, Onslow was unanimously elected speaker of the House of Commons, an office to which he was re-elected in 1735, 1741, 1747, and 1754.
Thomas Coutts
Working initially in partnership with his brother James, in 1867, Thomas Coutts took sole charge of the bank which still bears his name today. Under his ownership, the bank became immensely successful – King George III had an account for the Privy Purse and all the royal princes were customers of Coutts.
Coutts became a Governor of the Foundling Hospital in 1807. Governors were responsible for much of  the day-to-day work of the charity. They recruited nurses, interviewed mothers, heard reports on apprentices, and raised funds. 
Thomas Coutts remained a Governor of the Foundling Hospital until 1821, the year before his death. His second wife, Harriot Mellon, became a senior partner of the bank on his death and left her entire and substantial fortune to her step-granddaughter, Angela Burdett-Coutts, who also lived near the Foundling Hospital. 
Burdett-Coutts was a reforming philanthropist who wanted to use her wealth to help people escape poverty. She supported young women leaving the Foundling Hospital, established schools and churches, endowed scholarships and funded social housing projects in London and around the world.