On 2 February, Coram took part in Transcription Tuesday. The annual volunteering event is run by family history magazine Who Do You Think You Are? 
Huge number of volunteers joined us to help transcribe records from the Foundling Hospital, which started in 1739 as the UK's first dedicated home for children whose parents were unable to care for them.
On the day volunteers joined us online to transcribe hundreds of pages of the Foundling Hospital's General Registers, registers showing children admitted to the Hospital from 1741 – 1880.
The records sparked lots of interesting conversation about the history of the Foundling Hospital. This included the practice of vaccinations, as there was a smallpox epidemic in this period, the health of children at the time and some of the unusual names found in the registers, as children were given a new name when they were admitted to the Hospital.
On Transcription Tuesday…
822 record pages were transcribed
218 records pages were 'completed' (Each page is considered completed once it has been transcribed three separate times, to ensure quality)
93 new volunteers joined us on the day.
100% of the first volume of the Foundling Hospital General Registers was completed!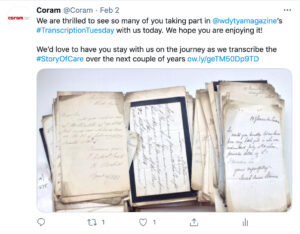 The major success of the day came at around 6pm, when we finished the transcription of the first volume of the General Registers. This was a fantastic achievement, getting us off to a great start on the project, as we uncover the story of care over the next few years. You can read more about how Transcription Tuesday went over on the Who Do You Think You Are website.
A massive thank you to all our volunteers who took part. Your contribution made the day a resounding success.
Can you help us reach our goal of transcribing some of the most fragile records from the Foundling Hospital archive?