As part of Voices Through Time: The Story of Care, Coram ran a series of one-off creative workshops during summer 2020, exploring different themes within the Foundling Hospital archives and parallels to modern experiences of care.
Working with artist Alison Stockmarr, we explored the theme of Gender in Care using collage. The group particularly discussed education opportunities past and present. Although the Foundling Hospital was progressive for its time, providing girls with a formal education and ensuring that they could read, write and do arithmetic, the broader curriculum was gendered, preparing girls for life in service and boys for careers in the military or as apprentices. Participants discussed bias in the  modern education system, particularly around "STEM" subjects, the way that some religions and cultures treat different genders, and peer pressure to be either more "girly" or "manly".
This artwork was created by Tina, who took part in the workshop. Below she explains her inspiration.
"On the girls side from the right bottom corner, I added a girl who is embracing her natural, then next to her a Meghan Markle; which I admire the work her and Prince Harry do. There is a black and white photo, which I felt represented how men or society would want women to look prim and proper. Next to the black and white photo on the left is a woman self- expressing with clothes, which showed me confidence to embrace the skin you are in. Above the image is a girl with glasses, which reminded me on myself when I was younger and above the girl I used Jane Elliot who I love and respect her work. Next to Jane Elliot, are three woman who symbolises girl power and empowerment; On the left of the three women, is a woman with braids, which I did not get to see often in magazines and then next to the woman with braids I added Rhianna as she is a domestic violence survivor and stands for what she believes in.
"On the boys side you can see a gentleman's head, which normally in society boys/men get judged on their appearance because of how they look but when you open the door the gentleman Is wearing high fashion clothing and does not fit the society norms. On the left is a gentleman, which I thought symbolised you can do anything you wanted and be free; underneath the gentleman, is a man with a melaninaire t-shirt; which when I see this man I see strength because during a black lives matter protest, he physically put someone on his back and took them out of danger. Last but not least, I included David Bowe as I feel he has never fit the male social norm and expressed himself how he wanted to and not societies."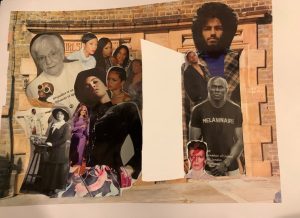 Learn more about our creative projects and workshops for care-experienced 16 to 25 year olds, as part of Voices Through Time: The Story of Care.