While working on the Foundling Hospital Archives, this gem of an entry in a book of the subcommittee minutes came to my attention…and if anyone has ever planned a large party or event, you will know it is a lot of work. It's somehow humbling to see the planning process has not changed so very much (though our tastes in food may have moved on).
The entry, dated 18 May, 1756, recounts the details of an Anniversary Dinner held the prior week, with a full diagram of the placement of the food and an account of the costings of each item. Apparently 86 tickets were delivered but the sale of these covered only about half the total cost, and "the deficiency was made good by the Stewards."
On the menu in 1756 was calf's head in turtle, pigeon pie, oyster sauce and shrimp sauce as well as the more recognisable sirloin of beef, radishes, cucumbers and boiled chicken.
Below the costings of each dish are given.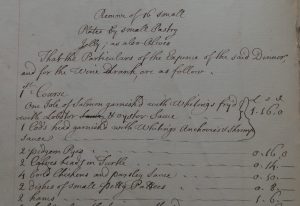 Here the meticulous writer shows how the food was laid out on the table.