This business card was found within a bundle of letters supporting the petition of Maria Cox to have a child admitted to the Foundling Hospital. Maria's petition is dated 6 June 1801.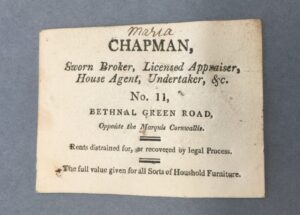 The business card is for an individual that must have been involved in Maria's affairs that was presumably willing to provide testament to her situation and good character.
This merchant, CHAPMAN, lists such a variety of services from broker to undertaker; this at first seem slightly comical – like familiar fictional characters that are willing to pose as experts in anything to make a few pounds.
However, Maria's case was no doubt a sad one, as her petition also recounts the recent death of her husband. After researching a bit about what all of CHAPMAN's titles actually mean, it's clearer that all of these services could relate to handling a family's estate when someone dies:
·         Sworn Broker (mediates between a buyer and a seller)
·         Licensed Appraiser (determines the value of goods)
·         House Agent (arranges renting, selling, or management of properties)
·         Undertaker (maybe less the mortician, and more the arranger of the funeral)
Perhaps a researcher in the future will discover more about Maria's story. The Voices Through Time Project is digitising a large portion of the Foundling Hospital archive, so this petition and many other records will soon be available to researchers and the public.