Robert Grey was elected a Governor of the Foundling Hospital in 1878 and served as Treasurer from 1892 to 1914. Grey valued swimming as a recreational activity and was responsible for organising annual trips to the seaside and for commissioning a swimming pool – and an infirmary and mortuary – for the foundling children.
In 2017, the swimming pool and a mortuary were demolished to make way for a new building dedicated to children's rights, the Queen Elizabeth II Centre. To ensure continuation at the site, materials were taken from them and incorporated in artistic works that are displayed there today.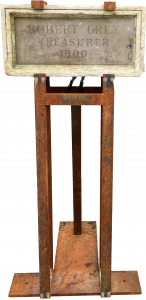 Dr Ken Wilder, Grey Stone (2019)
Grey Stone (2019), by Dr Ken Wilder, is a permanent free-standing sculptural installation comprising two parts: a stone plaque, originally sited above the entrance door to the swimming pool, and a purpose-designed corten (weathering) steel support. The plaque, which reads, 'Robert Grey, Treasurer, 1900', contains fragments of the original mortar and fixings while the corten support is designed to rust over time so that, overall, the piece will show the effects of age, evoking the history that is so important to Coram. 
Wilder's previous works include Skylights (2016), an in-situ art installation within the former mortuary, timed to coincide with the summer solstice.
Grey is also remembered in a 1904 portrait, painted by William Carter, which hangs on the main staircase of the Foundling Museum next to the Coram campus.